If you have been trying to submit a form in WordPress and you are receiving a 404 error page, well the chances of the cause being using a reserved keyword can be extremely high. This is because one or many of your field name is being reserved by WordPress.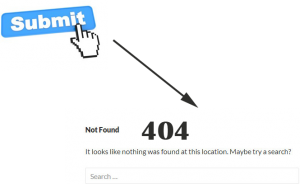 In the below snippet, name="calendar" is a reserved word. Submitting the form will display the bad 404 page. In-order to avoid we can prefix it name="mytheme_calendar" or ensure that the variables we use are not reserved by WordPress?
<form action="<?php the_permalink();?>" method="post">
        <label>Calendar</label>
        <input type="text" name="calendar"/>
    <input type="submit" value="Submit" name="qwe" value="submit" />
</form>
What do you mean "Reserved by WordPress" and "What are the keywords being reserved" ?
The following keywords or terms are being used by WordPress for important operations as a result, WordPress prevents you from using them. If you have been following WordPress best practices, you wouldn't encounter an issue as it is a good practice to prefix every variable with a unique prefix word. This not only avoids conflict with WordPress but with other plugins and themes
attachment
attachment_id
author
author_name
calendar
cat
category
category__and
category__in
category__not_in
category_name
comments_per_page
comments_popup
custom
customize_messenger_channel
customized
cpage
day
debug
embed
error
exact
feed
hour
link_category
m
minute
monthnum
more
name
nav_menu
nonce
nopaging
offset
order
orderby
p
page
page_id
paged
pagename
pb
perm
post
post__in
post__not_in
post_format
post_mime_type
post_status
post_tag
post_type
posts
posts_per_archive_page
posts_per_page
preview
robots
s
search
second
sentence
showposts
static
subpost
subpost_id
tag
tag__and
tag__in
tag__not_in
tag_id
tag_slug__and
tag_slug__in
taxonomy
tb
term
terms
theme
title
type
w
withcomments
withoutcomments
year
If you think that this is not causing the issue, leave a comment and will help you out. WordPress is an interesting CMS and while developing themes and plugins you might come across several issues. We always recommend reading WordPress guide. It covers guides for both Beginners and Intermediates